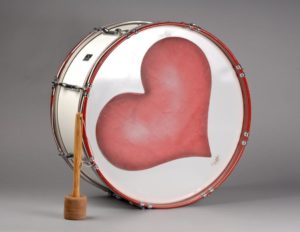 The drum Mabel used on stage in the Eurovision Song Contest in 1978 has been a big part of their image and also quite significant for the many fans. It is now completely over for the band that featured big success both in Denmark and abroad. The drum is up for auction this week, but many are disappointed by the thought of it ending up in the wrong hands.
When Mabel won the Dansk Melodi Grand Prix in 1978 the song Boom Boom became more than just a Danish Eurovision Song Contest entry. It was a come-back to the Contest for Danish broadcaster, DR, who had left 12 years earlier. The big drum with the hearts painted on the sides became a symbol for the band, its fans and the Danish Eurovision Song Contest fans. With a first time release of their biggest hits on CD the band is now stating that it is forever over with Mabel. Putting the drum up for auction and the band handling it over in person to the winner is probably the last we'll get to see from the four Mabel boys.
While some fans are thrilled by the idea of them being able to get this significant drum on display in their home others are quite against the auction. Some are scared that it will end up in the hands of someone who will not take good care of it while others think that it is now time Denmark get a Melodi Grand Prix museum where this drum and many other significant items related to the Danish final and their Eurovision Song Contest entries can be displayed for all fans to see them, also in the future.
The auction runs for another week, but it is already now sure that this special item will not be cheap. The next bid will not be less than 9.000 DKK (1.210 Euros, 1.021 British Pounds, and 1.687 US Dollars) with 20% fees being added after the auction. You can bid or just follow the auction at Lauritz.com.
Below you can see the performance of Mabel's Eurovision Song Contest entry from 1978 and their special performance of the song from AllStars 2009 where leadsinger Mike Tramp came second.