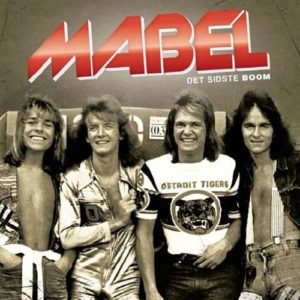 Mabel, who represented Denmark when the country returned to Eurovision Song Contest in 1978, has released a double CD containing all their biggest hits. The band had a few hectic years with international success, but has not previously released on CD. The new album includes a special 2009 edition of their Eurovision Song Contest entry.
When Mabel participated in the 1978 Dansk Melodi Grand Prix and afterwards the Eurovision Song Contest it was a come-back for Denmark, who hadn't been talking part since 1966. Mabel, which consisted of Mike Tramp, Peter Nielsen, Otto Kulmark and Christian Have, was already at that time quite successful, with their album Another Fire mess having sold Gold in Denmark and being released all over Europe. Their participation and victory in the Danish national final made everything go a lot faster. Mabel found themselves in a situation where they had screaming teenage girls wherever they went, both in Denmark and abroad for example in Spain where their big concerts were constantly sold out. The band moved to Spain and later to the US where they changed name to Studs. A total of five albums was released under their name Mabel and one as Studs. At some point it became too much for some of the band members and they split up in 1983. Lead singer Mike Tramp wanted something else and for many years he played with the heavy rock bands white Lion and Freak of Nature.
At the moment Mike Tramp or Michael Trampenau as his real name is, is based in Australia, but has been home in Denmark this spring to take part in the TV show AllStars where he came second, losing from Bamse who represented Denmark at the 1980 Eurovision Song Contest. Since he returned to Denmark Mike has been a lot in the medias and has been expressing a wish to move back permanently.
The double CD contains 19 of their biggest hits – and of course also their Eurovision Song Contest entry Boom Boom which is also available in a new 2009 edition. Mabel also took part in the 1979 Dansk Melodi Grand Prix and their entry Saturday Show is also to be found on the double CD.
Complete tracklist:
1: Hey I Love You
2: Close Your Eyes
3: Did You Ever
4: Lady Love
5: New York City Boy
6: I'm Only Here To Rock'N'Roll
7: Boom Boom
8: Sonnenschein
9: Born To Make You Happy
10: Wonderful Copenhagen
11: Sailing Away
12: Saturday Show
13: It's Getting Late
14: We Are The 80s
15: Skateboard Rider
16: Who's The Clown
17: I'm Tired
18: The Carnival Is Over
19: Boom Boom Single Version 2009 (R.Dif & M.Parsberg Remix)