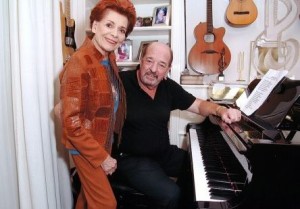 After many speculations Lys Assia has now issued a press release stating that she will not be representing another country, as things looks right now, but that she is negotiating about playing some kind of role at the 2013 Eurovision Song Contest.

Lys Assia failed to reach the final in Switzerland with the Ralph Siegel written entry All In Your Head. The 1956 winner of the Eurovision Song Contest had high hopes for this song to be her comeback to the contest she loves so much, but unfortunately for her the song didn't make it from the open selection to the actual final, which would determine which entry would represent Switzerland in Malmö, Sweden in May.
As Lys later announced that she had great news coming up soon and that she would be delighted to represent another country at the Eurovision Song Contest, rumours quickly spread indicating that All In Your Head would be the San Marino entry for 2013. In a press release today it says: "Yes, Miss Assia was very disappointed with the result of her melodic song 'All In Your Head' in the Swiss internet selection. And yes, Miss Assia would be very delighted to represent another country at the Eurovision Song Contest. It is still a dream of Lys and she still finds it the "best Contest in the world". But, at this moment we can official say that Miss Lys Assia is not representing any other country at the Contest and that, at this moment, she is not participating with 'All In Your Head' or even with New Jack and Mister Ralph Siegel."
As the very first winner of the Eurovision Song Contest, back in 1956 with the song Refrain, Lys Assia is well respected among most fans. The general attitude however was that they didn't want her back in 2013. All In Your Head is a song, which most are quite happy never made it any further in Switzerland. Those fans will be pleased to hear that it looks like Lys Assia will be playing some kind of role in Malmö, but without the song, they dislike so much: "Miss Assia is very delighted that many fans and other people are hoping to see her again at the Contest. We can say this: Miss Lys Assia will also have a close connection to the Eurovision Song Contest in 2013 in Malmö, maybe even a closer one than years before. Meetings are being held and negotiations are being made, as we speak. It's maybe not too late to start hoping."
It is expected that more news about this will be released at the end of January or beginning of February.
You might also want to read: 
Lys Assia to represent San Marino? Lys answered mysterious today
Heilsarmee has to change their name and outfit to represent Switzerland in Malmö