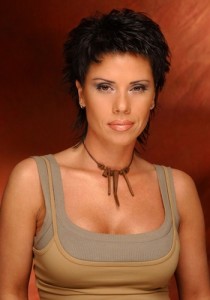 Luminita Anghel , the Romanian representative at the 2005 Eurovision Song Contest has decided to start her political career in Romania. Some weeks ago, Luminita Anghel made public her intention to run for the Romanian Parliament.
She is currently running a large campaign for office backed by her political party, the PSD (Social Democrat Party).
Luminita Anghel studied at the Popular Art School, in the school of Music and after that she attented University of Spiru Haret. There she studied Psychology and Sociology. As an 8-year-old she discovered her passion for music and started to sing.
In 2005 Lumintia Anghel, together with Sistem, represented Romania at Eurovision Song Contest with her song "Let me try" and they finished third in the final, the best placing ever by a Romanian entry.
Now, as a politician in Romania, she is trying to show to the public her abillities and she promises to respect the office and improve the lives of the people of Romania.
You can read her new blog about her political campaign in Romania here :  www.luminitaanghel.blogspot.com