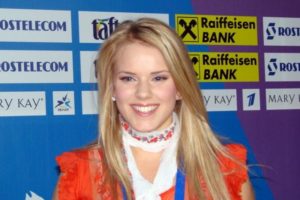 Not qualifying for the final doesn't stop Lovebugs success on the Swiss chart where also Icelandic Yohanna is placed. Paolo Meneguzzi and his Era Stupendo, the Swiss entry for last year's Eurovision Song Contest, has just dropped out of the list where the winner is nowhere to be found.
Alexander Rybak is featuring charts success all over Europe after winning the Eurovision Song Contest, but Switzerland is an exception. Only two entries, from the newly held contest in Moscow, have made it to the single top100. Switzerland has failed to qualify for the Eurovision Song Contest final three years in a row, but Lovebugs popularity on home ground hasn't suffered from that. They are this week's highest gainer going from #96 to #25 with their entry The Highest Heights. Yohanna, who sang Iceland to a second place with the song Is It True? is new as #74.
It is not common that a Eurovision Song Contest entry from the past year is located on any European charts, but in Switzerland Paolo Meneguzzi just dropped out after being #87 last week. He represented the country in the Belgrade with the song Era Stupendo which afterwards became quite a success for him on home field.
On the Swiss album top100 we find one of the songwriters behind this year's Danish entry, Believe Again, Ronan Keating as #13 with his latest album Songs For My Mother. He is also mentioned to be the greatest gainer as he went from being #72 last week. Roger Cicero who represented Germany in the 2007 Eurovision Song Contest has dropped one place to now being #26 with Artgerecht, that has been 6 weeks on the Swiss album top100. ABBA, 1974 Eurovision Song Contest winner, is #32 for their Gold – Greatest hits. They have the title "Longest chart sitter" attached to them after 68 weeks on the list. "Best comeback" goes to Lovebugs who has re-entered, with their album titled the same as their Eurovision Song Contest entry The Highest Heights,  as #54. Near the end of the list, as #92, we find the soundtrack to the film Mamma Mia that is based on ABBA's music.