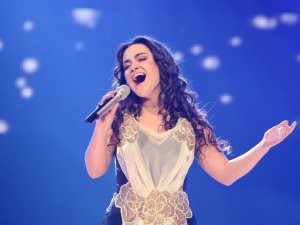 Lithuania tonight held their national selection final.  9 acts qualified to the final from the semi finals including previous Lithuanian Eurovision participants Linas Adomaitis (2004) and Sasha Song (2009).  4 willdcard acts joined them in the final.
 The 4 wilcards were selected as follows Urte Silagalyte, Donny Montell and Donny Montell & Sasha Song were jury vote and  Martynas Beinaris qualified with the most vote from an internet vote.
Here are the songs and performers –
1. The Independent 7th Bus
– Standard light rock song to start the show.  Sounds like they are influenced by 60s group, the Who.  3 guys are on stage, 2 guitarists and a drummer.
2. Viktorija Ivaskeviciute Be My Baby
– Viktorija is dressed in long white dress.  There is a great use of a wind machine here.  Good performance of this mid temp pop song.  She is joined by 2 backing vocalists.
3. Martynas Beinaris Tomorrow And After
– This is a catchy pop song with a strong production.  Martynas is dressed in a suit with shirt and tie and is joined by 2 male dancers and 2 backing vocalists.
4. Monika Days Go By
– Monika is dressed in a long and glittery dress.  This is a nice ballad that is very well performed.  She is joined by 2 female backing vocalists. One of the judges comments that the song sounds like The Land of Make Believe by Bucks Fizz.
5. Vigroses Freedom Of Mind
– Female duo give a powerful performance.  This has an anthemic sound and in my opinion would do very well at Eurovision.
6. Urte Silagalyte Candy Baby
– Dynamic performance by Urte and her 2 male dancers.  This is a great dance song with a strong chorus.  Urte is wearing a short red dress.
7. Linas Adomaitis Floating To You
– Linas is joined by 5 girl vocalists and instrumentalists.  The are all sitting on garden seats.  This has a nice summer pop sound.
8. Donny Montell Let Me
– First of Donny's songs tonight is a good catchy dance song.  He is joined by 3 girl backing vocalsts.  Another good production.
9. Liepa Laukiu
– Light pop song with a swing/40s style sound.  Nice performance.  She is dressed in pretty pink dress.
10. Donny Montell & Sasha Song Best Friends
– Great performannce from Donny & Sasha with 3 girl vocalists and a female dancer.  Very happy and catchy song.
11. Evelina Sasenko C'est Ma Vie
– A classy performance.  A big strong ballad with great use of strings and piano.  Evelina has a great voice.
12. Sasha Song The Slogan Of Our Nations
– Sasha's 2nd song tonight.  A strong performance.  The song is a ballad but I think a little forgettable.
13. Ruta Sciogolevaite Break Free
– Ruta gives a good performance.  The song builds and builds to a big ending.  She is dressed in blue and joined by a male cellist and 3 girl backing vocals.
The voting is a combination of expert jury and televoting.  There is a super final between Linas Adomaitis, Ruta Sciogolevaite and Evelina Sašenko.
Whilst we are waiting for the results of the final voting Bartas (Lithuania Junior Eurovision 2010) and Egle perform a duet,  This is a great uptempo dance song.
So, the act to represent Lithuania at the 2011 Eurovision Song Contest is Evelina Sašenko with C'est Ma Vie.