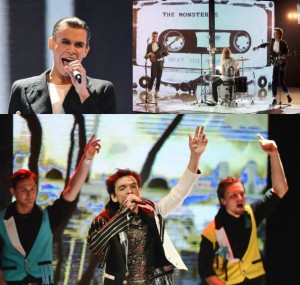 Beissoul, The Independent and Multiks are the first finalists in the national selection process in Lithuania for the 2012 Eurovision Song Contest. The show was broadcast with deferred performances and live voting from the LRT's studios in Vilnius.
Nine performers took part in the first heat of Eurovizijos and three acts of these nine candidates have qualified for the final by a mixed voting system of jury and televoting.
Beissoul, one of the favourites of the whole preselection, won the jury voting. The song has wonderful melodic curves and he has a distinctive voice and style of singing that allow the song to flow together seamlessly and it sounds gorgeous. Maybe this performance lacks of a good choreography. He was static for most of the song while the four female backing singers had a few little choreographed moves that coincided with the music. He wore a black frak jacket, white shirt, green trousers and black boots. The backing dancers were dressed in blue jackets (that matched with the stage lighting) and black trousers.
The Independent finished in second position with their rock'n'roll song called Baby. They were the first performance of the night and they really set a good standard. They are rock stars, no doubt about it, and in a competition littered with pop stars, they stood out for their rock'n'roll sensibility and that emotion-filled voice. The screen became black and white for their performance. Two of the members of the band were playing the electric guitar and the other one, who had his back to the audience, played the drums. They had so much energy on stage enticing the audience to get really get into it. They were dressed in black and white rock style clothing with leather jackets.
Multiks were not among the favorites for the juries but they received the support of the audience who gave them the ticket to the final. Star is an up-tempo song that sounds like electronic dance music. The music is good but main singer's voice is hard to listen to and he is not on point with the vocals. He wore a black and white jacket and black trousers. The other three members of the group were playing the keyboards at the beginning of the song and the guitars at the end. They were dressed in colorful pink, yellow and blue vests.
Below you can see how was the vote of the jury according to a point system and the finalists with the mixed vote of jury and televoting (in bold).
1-Beissoul – Why: 43 points
2-The Independent – Baby: 39 points
3-The Artrace – Fly LT: 33 points
4-Kamile Kielaite – Try: 33 points
5-Multiks – Star: 31 points
6-Indigo – Sugrizk: 29 points
7-Laisva – Nutolk: 28 points
8-Chill Out, Have No Doubt – Until The End: 26 points
9-Valdas Maksvytis – Give Laiko ra: 20 points
The second semifinal will be held on next Saturday, February 11.