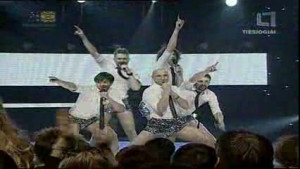 This evening, Lithuania became the latest country to choose its entry for the 2010 Eurovision Song Contest. InCulto will take their East European Funk to Oslo.
After each song, the performer was put in front of a jury, who gave him or her a few remarks on the performance and the participant was then taken to the Green Room for a little talk with the host. After 4 of the songs, we were presented with the Lithuanian lottery! It was quite fast though so it didn't disturb more than the usual commercials.
1. Agama – Field of Kings
The female lead singer is dressed all in Gothic style black leather. At the beginning of the song you can't see her face, but it becomes available at the same time as a group of male dancers join. These dancers are all using fire flames.
2. Aistė Pilvelytė – Melancolia
This female singer is wearing a long white dress. She is also wearing gloves that match the staging of this song, which has been given a cold feel. Half way through the song, it starts to snow on stage. Denmark had rain in their national final – Lithuania has snow.
3. Ruslanas Kirilkinas – I Love a Boy Who's in Love With a Fairytale
This song has been discussed a lot in the media as it is a tribute to Alexander Rybak. The male singer is casually dressed in dark jeans and a white t-shirt. He has two dancers with him on stage, one of each gender. In the background, he has three choir singers. The performance is quite simple, but it works for this type of song.
4. Merūnas – Rosa
This male singer looks as you would expect from an opera singer: Quite big in posture and wearing a dark suit. He has four female backing singers just behind him. They are all wearing black dresses. The staging is as for a song of this style, which is, of course, very simple. No moving around to disturb the atmosphere, just the song and the voice.
5. Ramūnas Difartas – Blues of Life
The male singer is dressed casually with jeans, a loose jacket with a scarf around the neck making it up as a tie. He has three female and one male baking singer with him, but they are all over the stage and appear more involved with the performance than we normally see. A clown all dressed in white is driving around on a bicycle, but near the end, he gets off the bicycle and starts playing a saxophone.
6. Monika Linkytė – Give Away
The female lead singer is dressed in a wine-red blouse and grey leggings. She has four backing singers with her on a skewed line. The lead singer moves a little around, but otherwise the performance is quite simple.
7. InCulto – East European Funk
This group of five men are all dressed alike in squared pattern trousers, white shirts and black ties. It is one of those songs that will be described as a novelty song. The performance is in line with the song; half way through the song, they take off their trousers. They are, of course, wearing matching boxers!
8. Evelina Sašenko – For This I'll Pray
Here we have a female solo singer in a long dress that is white at the front and black at the back. In the background she has three backing singers. As usual for these ballads, there is not much going on to distract for what it is all about; the song.
9. Sasha Song & Nora – Say Yes to Life
The male singer is dressed in a grey jacket with a white shirt underneath and black trousers. The female singer in a purple tunik and dark leggings. They have four dancers with them on stage and quite a lot of moving around on stage. This Eurovision Song Contest participant from 2009 was named "Son" last year, but now "Song". Now, I don't understand Lithuanian, but adding the company of the female singer apparently adds the g at the end.
10. Jūratė Miliauskaitė – Let it Rain
A female singer with a dark red guitar, she is dressed in a white cowboy jacket and jeans. Joining her on stage are four backing singers; three female and one male. Near the end of the song, there are some fireworks which bring out a background with rain drops on it. Otherwise, this country song is quite simple in its performance.
11. Eden – Nirvana
This is a rock ballad performed by five guys: a drummer in the background, three electric guitar players, and of course a lead singer. There is a lot of smoke on stage, and they give a strong performance, but someone should tell them that Eden and Nirvana is the same thing.
12. Amberlife – Material World
We end with yet another band. They are also five guys, but this is more pop, illustrated well by the lead singer wearing a little flower on his jacket. He is walking around quite a lot and at some point, he throws away money to get the performance to match with the song title.
The winner of the Lithuanian national final was decided in a combination of jury and televoting. It was possible to vote from the beginning of the show and from time to time it was shown on the screen how many votes each song had received at that current moment.
Before the result was announced song nr. 10 won a special prize for the best lyrics.
At the end, InCulto were the winners, receiving the maximum points available.
1st –    InCulto  24 Points
2nd –   Aiste Pilvelyte 20 points
3rd –   Evelina Sašenko 14 points
4th –   Agama 13 points
5th –   Sasha Song & Nora 12 points
6th –   Merunas 12 points
7th –   Ruslanas Kirilkinas 7 Points
8th –   Ramunas Difartas 6 points
9th –   Eden 4 Points
10th – Monika Linkyte 3 Points
11th – Amberlife 1 Point
12th – Jurate Milauskaite 1 Point