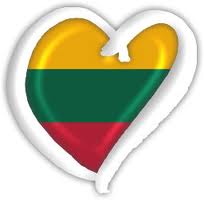 LRT tonight selected more acts to proceed to the Lithuanian national final on 24 February.  Fourteen acts were vying for three places, with the remainder still in with a chance of a wild card entry.
Lithuania's record to date in Eurovision has been patchy, and they are aiming to reach the final after narrowly missing out last year.  Tonight saw the second of three semi-finals, from which a total of nine acts will progress.  In addition to these nine, six will be chosen by other means.
There were no names of note in this semi (unlike last week), so it made more of a level playing field.
So, onto tonight's semi-finalists:
Dave & Henry – Fresh air dream
We kicked off the night in English.  This band with the eponymous two lead singers sang about waking up and saving the planet, and was a little bit unusual by Eurovision standards.  If we wanted quirky, this would be onto a good thing. 
Deividas Bastys – My girl
Twenty-four year old Deividas possibly saw himself as the successor to Sasha, with this pleasant mid-tempo number.  It was reminiscent of something Scandinavian (not always a bad thing).  We had a build-up, a bridge and a key change.  Eurovision by numbers?  Definitely.  In with a chance?  Possiblty.
Donny Montel – Let me
Donny sang our first ballad of the evening.  And classy it was.  Just him and a piano.  He had an excellent voice that was pretty much faultless as was his English.  We definitely had a competition on our hands tonight.
EDEN – Sleep of mind
EDEN in this case are not a racially mixed Israeli quartet, but a five-piece rock band. 
Egle Jaškyte – Meile yra
This started in dramatic fashion with a heavy orchestration.  Added to that, a pretty girl singing in Eurovision often does well.  How was the song?  It had flashes of R&B, a catchy chorus, and a Rachmaninov-style bursts of piano thrown in for good measure.  A definite contender for the final.
Egle Petrikeite – Laimingi kaip mes
Another song in her native tongue, Strawberry-blonde Egle sang a catchy little song.  Accompanied by some able backing singers, this had a distinct Baltic vibe about it, and sort of made you feel good.
Evelina Sašenko – C'est ma vie
Evelina now slowed things down a little with a ballad – another song heavy on the piano.  This built into something quite classy.  She even mixed English and French in a way that really fitted the song – there was no writing a song in one language and doing a rough translation here.  This competition is going to be a tough one to call.
Guoda Isado – Ciuto tuto
We now picked up the pace again, with something a little more R&B.  There was something from the 1980s about this.  It was catchy, if a tad repetitive.  But when you're singing in Lithuanian on the Eurovision stage, a good hook can often pay dividends.
Kas jos tokios? – Unbreakable
This questionable band was a trio of girls singing in close harmony.  We had a slow song that again fell into the 'classy ballad' category.  Maybe a little dated, but in a contrast to the last song could do well.
Liepa – Laukiu
Back to Lithuanian for this unusual song.  A little jazzy, a little lounge-music, with a more upbeat chorus in the mode of Roger Cicero.  And she looked good.
Nora – What is love?
Nora gave us something that had definite Tamla Motown overtones.  Nora was enjoying herself, and this came across as she belted out this song. 
Tofu Bubble – Take
Intriguingly-named Tofu Bubble were a six-piece outfit fronted by a sultry ravenheaded girl.  Very contemporary, and very Sophie Ellis-Bextor.  If Lithuania wants to send a naturally good song that would do well in any pop chart, this would be the one to send.
Valdas Maksvytis – Leisk myleti
After a long run of female vocalists, Valdas came along with a mid-tempo song that was pleasant enough.  Another very catchy song, but you couldn't help thinking he was trying too hard to be like Sasha Song.
VIG Roses – Freedom of mind
Finally, a blonde duo sang a song written by a genuine Eurovision fan.  They had a pretty good stab at this, and it seemed to work.  And being on last always helps.
The result:
VIG Roses – Freedom of mind
Liepa – Laukiu
Evelina Sašenko – C'est ma vie