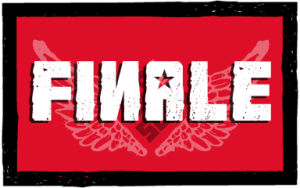 It's the Flemish turn to pick a song to represent the country at the Eurovision and they seem to be enjoying it.  The quarter finals and semi finals are finally over.
Many often wonder why they take so long to pick an entry but the Belgians themselves seem to like Eurosong and it's format that could be likened to a football tournament.  The semi finals have decided the five acts that will battle it out next Sunday night and it looks like it going to be a close fight between Ishtar and Sandrine.  Most fan polls put the two acts out in front.  Given that Belgium's last success in the contest was with Sanomi happens to share many similarites with Ishtar's song may mean that the made up language entry may just have the edge on the Pop idols runner up.
Tonight's show saw Ishtar and Sandrine qualify directly for the final and Tabitha Cycon and Brahim won the second chance ticket.  The fact that this was the second semi and the second chancer would be picked in tonight's show meant that Tabitha's hope was short lived and she was passed over in favour of Brahim.  He will now join the four qualifiers thanks to the judging panel of which Katrina Leskanich.
Whoever wins the final will have to compete in the first semifinal of the 2008 Eurovision Song Contest on the 20th May.
In my view
The choice is clear, it's between Sandrine and Ishtar, if I had my way it would be the former.  Another made up language entry may just grate with the viewing public but by the reaction of the audience the Belgians seem to love it.  Ishtar's entry may just be a refreshing break from all the other samey entries that we'll be treated to in May.

The opinion expressed in "In my view" are those of the author and are not necessarily the one of EuroVisionary.com.