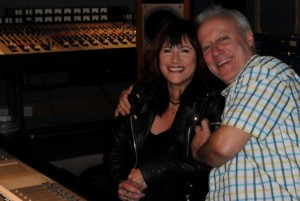 Kirsten & Søren aka Hot Eyes, who represented Denmark a total of three times at the Eurovision Song Contest in the 1980's, will be reunited for a Christmas song on Kirsten Siggaards next album. This will be the first new recording since the duo came third at the 1988 contest held in Ireland. 
Kirsten Siggaard says that it was her record company that got the idea that the popular duo, that split up after coming third at the Eurovision Song Contest in 1988 with Ka'Du Se Hva' Jeg Sa'?,  should sing a duet on her new Christmas album. She also add that Søren Bundgaard wasn't that hard to convince though he have since the break-up of their music parnership focused more on being a producer.
The duo that participated at the Eurovision Song Contest three times is today loved by most Eurovision fans, both in Denmark and abroad. In 1984 they came fourth with Det' Lige Det under the name Hot Eyes, a name they also used the year after where the song was called Sku' du spørg' Fra No'en? Both in 1986 and 1987 they participated in the national final, the Dansk Melodi Grand Prix, without winning, but in 1988 the duo made it back to the Eurovision stage with Ka' Du Se Hva' Jeg Sa'?, this time under the name Kirsten & Søren, the name used in Denmark – as mentioned above finished they finished third this time.
Since that the duo split up, Kirsten went solo and Søren focused on his work in the studio. They have remained friends over the years and now they are back singing together for one of tracks this new Christmas album from Kirsten titled Min Jul. The album is mentioned to be released on the 21st of November this year. 
In the spring the duo will go on a tour in Denmark together with other Grand Prix participants.