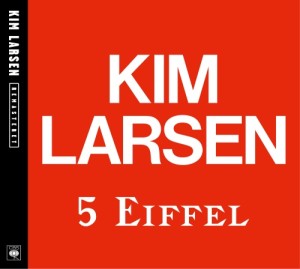 30 years ago Kim Larsen released an EP that ended up being forbidden and pulled back. Now the singer, that participated in the Danish final in 1979, and since the early '70's have been a household name in Denmark, re-releases the EP. A new album is expected as well. 
In the '70's and '80's Kim Larsen couldn't do much wrong musically as most of his work resulted in gigantic sales numbers making him one of the absolute most popular singers in Denmark – except for one EP containing five songs. Two of the songs were re-written poems by Frank Jæger. His family and the publisher disagreed with this and demanded the EP pulled back from the market. That happened and the songs have not since been published. On the 25th of June that will change as the original EP with all five songs will be re-released. That can happen because the disagreement between the parts finally have been settled.
The EP is titled 5 Eiffel, just as the original was, and contains the following songs:
1. Åh At Være En Høne
2. Just Tell Her Jim Said Hello
3. Jægerens Kvarter
4. Bedstefar Ta' Dine Tænder På
5. Kit 
Kim Larsen started his career in the Danish rockband Gasolin, that existed from 1969 to 1978. After the break up Kim went solo and up through the 1980's he established himself as one of the best selling names in Denmark. His album Midt Om Natten became the best selling album ever in Denmark. He is still active as a singer and currently also working on a new album that is expected to be released in time for the Christmas sale 2012.
In 1979 he participated in the Danish final, the Dansk Melodi Grand Prix and came 3rd with the song Ud I Det Blå.