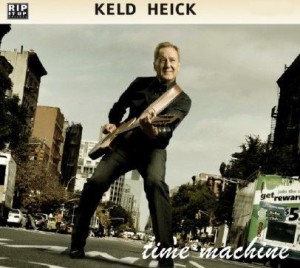 Mr. Grand Prix Keld Heick has released a solo album with cover versions of rather unknown Rock'n'roll songs from the 1950's and '60's. For his fans this is very different from the schlager style they are use to, but for Keld it is going back to his roots where he started 50 years ago.
Keld Heick has represented Denmark at the Eurovision Song Contest a total of 9 times as a songwriter. He has written an uncountable number of entries for the Dansk Melodi Grand Prix, has been commentator on the international contest as well as hosting the Danish final. Here in 2010 he was back in the Dansk Melodi Grand Prix in the role as a co-hosting Eurovision expert.
He is one of Denmark's most successful songwriters, but he does sing himself. Him and his wife Hilda has several times participated in the Danish selection as a duo, but never won. Since the mid 60's the Danes have known him as a popular Schlager singer, but he actually started out in a different genre. That is the Rock'n'roll genre he is now getting back to with on his new album called Time Machine released on 22nd of February 2010.
Below you find the tracklist. EuroVisionary will soon provide you with a review of this album, but you can already now buy the album using the following links to your local CDON.com:
Tracklist:
1. Love Me Warm and Tender (Paul Anka)
2. Look for a Star (Gary Mills)
3. Nervous Breakdown (Eddie Cochran/Mario Racuzzo)
4. A White Sportcoat and a Pink Carnation (M.Robbins)
5. 24 Sycamore (Mason/Reed)
6. Heartbeat (B. Montgomery/N. Betty)
7. How Long is Forever (McDevitt/Douglas)
8. Be Mad Little Girl (Bobby Darin)
9. Lonesome Town (Baker/Knight)
10. A Girl Like You (Jerry Lordan)
11. Spanish Harlem (Leiber/Spector)
12. Sittin' in the Balcony (J. Dee/Loudermilk)
13. Never be Anyone Else But You (Baker/Knight)
14. Don't Make My Baby Blue (B. Mann/Cynthia Weill)
15. Theme for a Dream (M. Garson/Earl Shuman)
16. Sweetie Pie (J. Capehart/E. Cochran)
17. Three Steps To Heaven (J. Capehart/E. Cochran)
18. I'm on My Way (Tepper/Bennett)