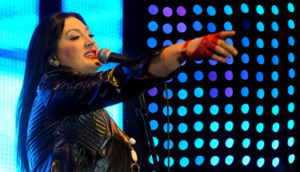 Kaliopi Bukle was recently chosen by the broadcaster, MKTV, to represent FYR Macedonia at the 2012 Eurovision Song Contest in Baku in May.  Now it has been confirmed she will sing a song entitled, Black & White.
MKTV received numerous compositions from famous songwriters at home and also abroad.  But they finally decided on Black & White and is composed by Romeo Grill.  He has written many of Kaliopi's big hits including Bato.  The lyrics are by Kaliopi herself.
Final production and recording of the song will now take place and will be completed in Germany.
A presentation of the song will be shown on a special show on MKTV in the near future.
Kaliopi was selected to represent FYR Macedonia for the 1996 Eurovision Song Contest with the song, Sami Ti but she did not make it to the final after being eliminated from a pre-selection that was not broadcast on tv. 
You can see Kaliopi perform her big hit, Bato, composed by Romeo below.