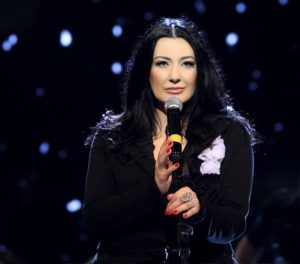 Well established Kaliopi, who will be representing FYR Macedonia at this year's Eurovision Song Contest, has recorded her entry in both Macedonian and English. EuroVisionary has been offered the chance to bring these two versions to our readers, who can also enjoy her brand new video.

Kaliopi, who is one of the biggest pop stars in FYR Macedonia has also had succes in Switzerland where she lived for some years. She is now back in her homecountry ready to fight to reach the final of the Eurovision Song Contest, something she already tried back in 1996. That was before EBU introduced the semi-finals and instead had a jury voting on, which songs would make it to the Eurovision Song Contest. FYR Macedonia was unfortunately one of the countries that didn't pass the jury.
Here in 2012 Kaliopi is secured a place in the semi-final with the song Crno I Belo after being selected by the local broadcaster. She has recorded both an English as well as a Macedonian version and both will most likely become hits for her as everything she touches becomes gold: All her many solo albums has each won the title "Album Of The Year".
Below you can also see the official video to her 2012 Eurovision Song Contest entry, that is written by Romeo Grill whilte Kaliopi herself wrote the lyrics. Below the video you find both the Macedonian and English version of the song in our MP3 player, which Kaliopi Music Production has kindly provided us with. Enjoy!