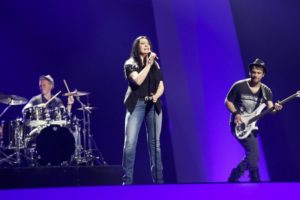 Kaliopi took to the stage and gave a top performance of Crno I Belo at FYR Macedonia's second rehearsal here in Baku.  Strong vocals and effective lighting made the stage rock.
Kaliopi was today wearing a black top and jeans.  She was accompanied on stage by two male guitarists, a male drummer and two girls playing violin instruments.
As the song begins there is a theatre background.  After the quiet intro the song turns to rock and the background becomes really bright and there is use of strobe lighting.
Kaliopi's vocals are very strong her vocal performance seems effortless for her. There was a slight technical hitch at the start of the third run through but this was quickly sorted.
If she performs again like this in the semi final FYR Macedonia has a very good chance of making it to the final.