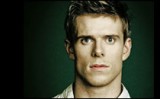 Former Icelandic Eurovision entrant Jón Jósep Snæbjörnsson, otherwise known as Jónsi has confirmed today that he is one of the acts competing for the Icelandic ticket to Baku in 2012.
Due to Birgitta Haukdal's 8th position at the 2003 contest in Riga, Jónsi was directly qualified for the final from Istanbul in 2004, where he performed the power ballad Heaven, written by another of this year's composers, Sveinn Rúnar Sigurðsson. Due to a nervous performance, the singer only managed 19th position, much lower than anticipated. Since Istanbul, the singer has continued as frontman of the extremely popular Icelandic group Í Svörtum Fötum (Dressed in Black). Jónsi tried once again for international glory in 2007 with Segðu Mér which failed to make any impact in the final.
Four years have passed and Jónsi feels that the time is right once again to have another go at defending his beloved Iceland, only this time he will not be alone in his efforts. The star has allied himself with Greta Salome Stefánsdóttir, who is also the writer and composer of their entry. The song title is yet to be confirmed, but is described as an ethno rock ballad. His participation was confirmed today to a Norwegian fan site which has established connections with the singer.
Stefánsdóttir appears to be safeguarding her chances and hedging her bets as she and Jónsi will funnily enough be competing against herself, performing as a solo artist. Her solo entry is reported to be in the power ballad mode where she will be helped along by Heiða Ólafsdóttir and Guðrún Árný.