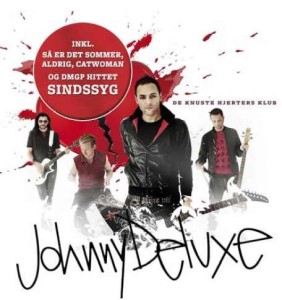 When Johnny Deluxe was asked if they wanted to participate in the 2009 Dansk Melodi Grand Prix they had just released their third album. This album has now been re-released in an edition that includes the song Sindssyg which came third in this year's Danish final.
Johnny Deluxe was given a wildcard to the Dansk Melodi Grand Prix as broadcaster DR wanted a final with some bigger names participating. As one of the most popular bands they were an obvious choice. The band first said no; Melodi Grand Prix was not for them. They changed their mind and the result was the song Sindssyg that ended on a tied 3rd place being losing to the winner Brinck in the first of two knock out rounds.
The band has released three album; "Johnny Deluxe" from 2004, "Luxus" from 2005 and "De knuste hjerters klub" (The club for the broken hearts) from last year. This latest album has now been re-released to also feature their Dansk Melodi Grand Prix entry. The album with 12 songs can be purchased worldwide via CDON.com.

Full Tracklist of De knuste hjerters klub:
1 Sindssyg (Insane)
2 Catwoman
3 Aldrig feat. Szhirley (Never)
4 Stjernerne Tager Fejl (The stars are mistaken) 
5 Kys Mig! Rør Mig! Had Mig! Slå Mig! (Kiss me! Touch me! Hate me! Beat me!) 
6 Jeg Bliver Hos Dig (I'll stay with you)
7 Så Er Det Sommer (Then it is summer)
8 Befri Mig Fra Dig (Release me from you)
9 Hvis Du Siger Farvel (If you say goodbye)
10 Glem Mig Hvis Du Kan (Forget me if you can)
11 Lotteri (Lottery)
12 De Knuste Hjerters Klub (The club for the broken hearts)
Brinck who won the 2009 Dansk Melodi Grand has also re-released his 2008 album to include his winning song Believe Again and as a bonus to new songs. The reason Denmark now see these re-releases is that it is not common to release singles as more than just a download of a single song. This is very different compared to f.ex neighbour country Sweden where almost every participant in Melodifestivalen releases their entry on a single.