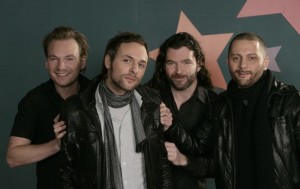 Danish band Johnny Deluxe, who participated in the 2009 Dansk Melodi Grand Prix, splits up after ten succeful years. The band says that they simply don't have the engagement and commitment to continue. Lately most of the bandmembers have also experienced success as songwriters. 
When Johnny Deluxe participated in the Danish final, the Dansk Melodi Grand Prix, in 2009 they were allready a well known name. With their song Sindssyg (Crazy) the band ended up on a tied 3rd place. Since that we have seen three of the bandmembers, Noam Halby, Jacob Glæsner and Søren Itenov, participating as songwriters.
In 2010 Noam was one of the songwriters on Jens Marni's Gloria and in 2011 Jacob wrote New Tomorrow for A Friend In London, together with Lise Cabble. Jacob also co-wrote one of the songs in this year's Cypriot national final; Call The Police. Søren Itenov was one of the songwriters behind the song Nowhere, which got disqualified from this year's Danish final. 
The band started in 2002 and have released a total of 11 singles and 5 albums, the last one being De Største Af De Første from 2010. Their first album from 2004 sold to gold status and earned them an awarded as best new act of the year. Aside from Noam Halby, Jacob Glæsner and Søren Itenov the band also included Morten Lynggaard. Their break-up, which was announced via their Facebook page, today where the band simply says: "Here ten years later we can, with joy, look back on the fantastic journey we started back then and the cool experiences it gave us. We have now decided to break up Johnny Deluxe as we no longer have the engagement and the commitment to continue, but to reach a 10 years anniversary isn't that bad either 😉".