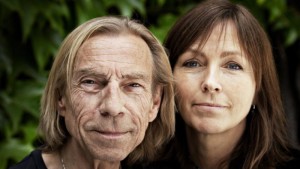 Jahn Teigen and ex-wife Anita Skorgan performed together for the last time at the Eurovision Song Contest in 1983 singing Do-Re-Mi, but continued their succesfull partnership back home in Norway. The duo have however finally decided to quit while ahead.
Although both stars' careers are nothing like the dizzying heights of their heyday back in the mid 80's when the whole of Norway was hooked on their antics – they were in many ways the Norwegian version of Prince Charles and Lady Di – both artists have still managed to remain in the spotlight. Their latest project has been an unmittigated success; the summer show Jahn Teigen fra Tønsberg has played to a packed venue every evening during the summer months from summer 2009 up until today. There has literally not been an empty seat in the house, and the couple's popularity has meant that the shows have earned taken a staggering NOK 40 million. Jahn and Anita have however decided that all good things must come to an end and have announced that their final show will be on the 20th of July.
The original intention was to play the show 5 times, featuring numbers such as Adieu and Mil Etter Mil, which are still real crowd pleasers after all these years. Tickets sold like hot cakes, and both Anita and Jahn were truly moved by the strong reactions from their audience. It was however a mutual decision by the two to bring their run of success to an end : "What we've achieved makes me so proud and very happy, but we feel we need to bring things to an end now. We both have our own projects to be getting on with, which demand our undivided attention", Teigen tells Norwegian tabloid Dagbladet. The pair can't rule out maybe one or two extra shows, but after that there will be no going back. "When we sing our own songs it's all about nostalgia – there's no escaping our professional past, but it can quickly become a trap to stay entrenched in the past. That's one of the reasons why we can't continue doing this for the rest of our careers, it's important to evolve as artists", Anita adds.
Despite a divorce in the late 80's, the couple have remained the best of friends even though they've pursued their own busy careers. Jahn is currently working on a new album and remixing some of his earlier hits. Anita is also busy working away with her own project but is somewhat reluctant to reveal exactly what she is doing: "I'll be fronting a project sometime in the autumn, but it will be something completely different to what I've previously been doing", the artist quips.