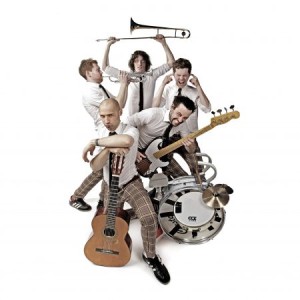 The Lithuanian delegation had great fun on stage in Oslo this morning, the sounded a start to the third full day of rehearsals in the Telenor arena. They managed to keep their pants on for most of their practice.
The song is as presented at the national final with the five guys on stage and one stagehand to bring on the props and get rid of the mic stands.
The background features dancing stick men and blue, yellow and red flashing lights. At times it looks good and other times it looks awful, especially on the long shots.
The rehearsal was the most light hearted we've had so far. For the penultimate run through only one of the guys ripped his pants off which gave everyone a little laugh.
The camerawork was quite good as well, not a lot of work is needed. The one thing Lithuania will need to improve is the part where the colourful fake instruments are brought on. It is still a bit messy and doesn't look good at all.