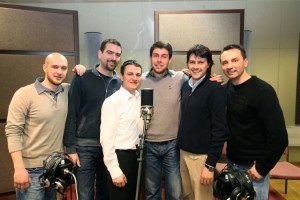 HRT has announced the names of the six members of the so-called "Super Klapa" that will represent Croatia at the 2013 Eurovision Song Contest with the song Mižerja. All of them have extensive experience and they are members of some of the most revered singing klapa ensembles.
The Croatian broadcaster decided that their entry for the 2013 Eurovision Song Contest would be a traditional Croatian style Klapa in order to promote Croatia's musical legacy. A few days ago it was announced which would be the title of the song but we still needed to know the names of the artists who will perform the song in Malmö. That mystery was revealed a few hours ago and they are:
Marko Škugor, first tenor from klapa Kampanel.
Ante Galić, second tenor from klapa Sinj.
Nikša Antica, first baritone from klapa Kampanel.
Leon Bataljaku, second baritone from klapa Crikvenica.
Ivica Vlaić, bass from klapa Sebenico.
Bojan Kavedžija, bass from klapa Grdelin.
The six members of the group, whose official name is yet to be confirmed, have been selected by an expert committee composed by the artistic leader maestro Mojmir Čačija who has successfully managed Klapa Sinj from its very beginning. He is also engaged in the vocal arrangement of the song alongside producer Nikša Bratoš and Dragan Brnas.
A snippet of their Eurovision entry titled Mižerja was premiered last night during the evening news programme on HRT1 (video below) and the joy with which they sing is audible in the beauty of the harmony created by these six disparate and singular voices. The writer of the song, Goran Topolovac said that it "has a typical Dalmatian folk music flavour". He also stated that it is a slow romantic song which tells the history of a man who has nothing in his life but he still has faith in love.