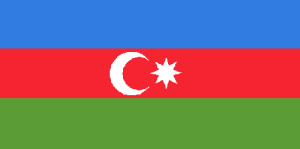 Do you know how to ask for help in Azeri?  Perhaps not, but fear not, the Azerbaijan Interior Ministry is on the job!
In a recent announcement it was revealed that Police in Azerbaijan will be attending English language classes to prepare them for the Eurovision Song Contest 2012. The Deputy Spokesman for Minister for the Interior, Ehsan Zahidov, said that the Ministry recognised the importance of learning foreign languages. It's assumed when faced with the wide variety of languages spoken by Eurovision participants it was safest to go for the 'universal' language of English.
It will be interesting to hear what phrases are being taught.  Will they include key Eurovision phrases such as ' Do you think Sweden or Denmark was better?' or ' Which way did the singer wearing the really short skirt go?' or ' I've lost my Finnish/Irish/Greek/Maltese flag, have you seen it?' 
Despite the English language classes, Baku Police may struggle to understand even native English speakers  – especially those with broad accents such as the Australians and Northern Irish. Perhaps after English basics 101, the officers in question will need to take extra lessons in regional dialect?