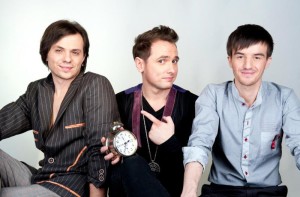 Two days ago at a press conference held in Bucharest at Hotel Rin,the Romanian representatives for Eurovision 2011, HOTEL FM has talked with journalists and fans about their promo tour events, plans about the band's future and also about their reworked version of the song Change for Düsseldorf.
For the first time at a press conference, the Romanian representatives for the Eurovision 2011 in Düsseldorf responded in real time not only to questions posed by journalists present, but also those submitted through the internet.Questions were submitted by fans on the Official Facebook page of Eurovision Romania (http://facebook.com/eurovision.romania) and the responses were posted in English in real time as they were given. Gabriel Baruta, the composer of the song, said that they still working together at the final form of the piece  and the show that they will present in Germany. He said "We want everything with sense,we don't want to bring anything kitsch, nothing over the top. I don't think we have potential with something unnatural.For this reason the song Change will be reworked with natural instruments : drums, piano, violins withouth electronic effects". Parallel to the preparation for the show, the team worked to establish TVR details for filming the video for Change for European promotion. At this stage the tour will include destinations such as Chisinau (Moldova), London(UK), Budapest (Hungary), Athens(Greece), Sofia(Bulagaria) and Italy. As part of an additional promotion, Hotel FM band will support a concert on April the 9th with major names from the Romania scene that will be broadcast on TVR1 and TVR International.
The Eurovision Song Contest will take place in Düsseldorf on the 10th,12th and 14th of May. Artists from 43 countries will be competing for the grand prize, 38 competing in semifinals and the big 5 qualifying straight to the final. Hotel FM Band with the song Change will compete for Romania in the second half of the second semifinal, on May the 12th.