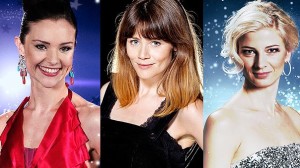 At a press conference today the hosts of the 2013 Danish final, the Dansk Melodi Grand Prix, was presented. It will be Lise Rønne, Sofie Lassen-Kahlke and Louise Wolff that will guide us through the show that will pick the Danish entry for Malmö.
It was with big excitement that today's announcement came – who would be hosting Dansk Melodi Grand Prix 2013? Last year DR surprised many with their choice of Louise Wolff and Emil Thorup and with no clear favourites this year either it was hard to guess on any names – and for sure DR once again surprised with their choice of three female hosts this time. 
At the press conference today held in Jyske Bank Boxen, which will also be hosting the Danish final on the 26th of January, it was then finally revealed that it will be the three females Lise Rønne, Sofie Lassen-Kahlke and Louise Wolff to host the show. With Lise Rønne (Host in 2011) and Louise Wolff (Host in 2012) having tried it before Sofie Lassen-Kahlke is the new one in that field, although the actor isn't that much of an amateur as she hosted the Danish junior show this year together with Jacob Riising.
The participants, who will be fighting to represent Denmark at the 2013 Eurovision Song Contest, will be presented on the 16th of January.