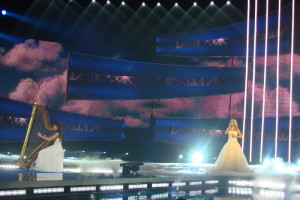 The 2010 edition of the Dansk Melodi Grand Prix became a huge success for the broadcaster. 70% were watching the show which is the highest since 2005. Furthermore the quality score of the program ended up being the best ever for a national final in Denmark.
Danish broadcaster, DR, is naturally quite pleased with the viewing figures for this year's national final as it ended up being even better than expected. Last year was good with 1.717.000 people watching Brinck win with Believe Again. That happened after a couple of years with a drop in viewing figures so the big question was of course if it was possible to live up to the success from last year – and the result was overwhelming with 1.864.000 people tuned in to the Danish final where Chanée & N'evergreen won the honour of representing Denmark at the Eurovision Song Contest in Oslo in May.
 
To countries with larger population this won't look like a lot, but the market share of 70% is something many countries will envy. It means that 70% of everyone watching TV Saturday evening preferred to watch the Dansk Melodi Grand Prix over anything else.
The viewing figures have been measured for 19 years now – and in all that time only four other Danish finals had better numbers. The interest was naturally higher right after the Olsen Brothers won the Eurovision Song Contest in 2000 and Denmark held the international final the year after, but after a couple of years the interest fell to go up again last year – something that continued this year.
Together with the viewing figures follows a quality scale where TV programs are given points from 1-5 depending on the quality of the program. This year's Dansk Melodi Grand Prix scored an average of 4, which is the highest for any national final in Denmark. It matches quite well with the very positive atmosphere where almost everyone is talking very highly about the fantastic show we saw Saturday evening, a stage which fully matches the best ones ever seen in a Eurovision Song Contest and several songs with quality to represent Denmark in Oslo in May. No matter if you agree with the winner or not the feeling is that everyone just simply loved the show that was clearly inspired by the 1984 Dansk Melodi Grand Prix, which to most people stand – or stood – as the best one.