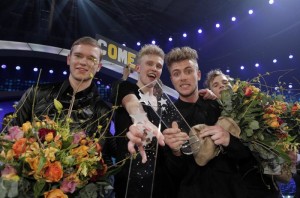 As EuroVisionary have pointed out earlier the Danish entry have a clear resemblance to a song from Melodifestivalen 2006, but other songs are now also mentioned as being the original of the 2011 Dansk Melodi Grand Prix winner New Tomorrow. After the victory the two songwriters were confronted with the accusations. 
Today most Danes finds themselves walking around singing "Come one boys, come on girls". A Friend In London's winning song from last night's Danish final is extremely catchy with a chorus that just gets stuck in your head half way through your first listening. But is the song so rememberable because it has been heard before?  That was at least what the songwriters of New Tomorrow were faced with immediately after seeing their composition win the right to represent Denmark at the 2011 Eurovision Song Contest.
We have before made aware of the similarity to Andreas Johnson's Sing For Me that participated in Melodifestivalen 2006. That and two other songs were brought to the attention of the songwriters last night. The other two songs are Take That's Shine and the song Face To Face by the German group Future Trance United. 
The song New Tomorrow is written by Lise Cabble and Jacob Glæsner.  Lise also wrote the Danish 1995 entry Fra Mols Til Skagen. After last night's Danish final when met with the accusations she said: "We have actually heard that it reminds of four songs. It is of course not good if people say it is plagiarism. We'll have to go home and listen to the other songs". Her co-composer Jacob adds that "the song is very popular in its expression and consist basically only of five tones. It is unavoidable that it doesn't remind of a song one have already heard".
It is three years in a row that the Dansk Melodi Grand Prix winners have been met with accusations of plagiarism. In 2009 Brinck's Believe Again was mentioned to have stolen the lyrics from Miley Cyrus's Bigger Than Us and the music from I Will Remember You sung by Ryan Ryan Cabrera back in 2006. Last year Chanée & N'evergreen's In A Moment Like This was met with having borrowed a little too much from the Police hit Every Breath You Take.
Below you find four videos to make up your mind about the accusations. First last night's Danish winner New Tomorrow, then Andreas Johnson's Melodifestivalen 2006 song Sing For Me. Third song is Future Trance United's Face To Face and last we have Take That's Shine.