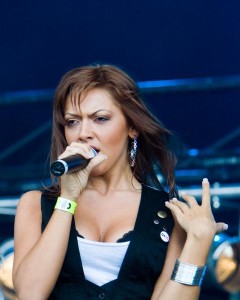 The Turkish National Broadcaster, TRT, has confirmed that Hadise will be in charge of the Turkish Eurovision Song Contest entry. She also has the responsibility of the song style and in which language it is to be sung. She also will be able to choose the composer and lyricist on her own.
Hadise, (full name Hadise Açıkgöz) was born in Belgium in 1985. She had musical talent when she was young. Her professional music career began in 2003 when she won the Belgian music contest "Idool". After this success, the music company 2Brains offered her the chance of her musical life.
Hadise describes her style as "Urban Pop" and her influences are Beyoncé and Prince, Janet Jackson, Tina Turner, Alicia Keys and Toni Braxton. Her biggest dream is to sing on the same stage as Tina Turner.
As TRT gave the responsibilty of choosing the language of the song, Hadise knows five languages; Turkish, French, German, English and Flemish.  That means we may hear one of these languages during the Turkish performance next year. She also can write her own musical lyrics and compose.
Hadise also has 2 singles Sweat (2003) and Stir Me Up (2005). Her album was released in 2005 called Ain't No Love Lost that includes both Turkish and English songs.
In my view
I think Hadise has good sound for the Eurovision Song Contest. She is well known at Middle and Eastern Europe and her style is not far away from Western Music. She is not the best ever maybe, but she can be a new Celine Dion (remember Eurovision '88) if she plays her card very well.

The opinion expressed in "In my view" are those of the author and are not necessarily the one of EuroVisionary.com.