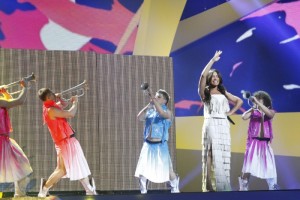 Today the Ukrainian team had their second rehearsal on stage in Baku. Will Gaitana be able to make it to the final with her hymn to the European Championship in soccor this summer?
The performance starts with two pair of screens acting like two sliding doors opening. And Gaitana is coming out as a person walking through. It's a good gimmick, however, at the first rehearsal a few days ago a backing dancer came out before her.
At the first rehearsal Gaitana had five dancers with her on stage; however, it seems that the yellow dancer, who came through the sliding doors, has been fired. At this rehearsal we only saw only four dancers. Their dance routine seems to be the same and they interact very well with the projections on the four screens behind them. During the song they play trumpets.
At the end of the performance the screens show a flash mob dance which should work very well at the TV screens across Europe, if it's filmed the right way.
Today we also got to see the dress Gaitana will be wearing in the Semi Final. It's a long white dress with lots of fringes.
Gaitana's voice was fine, and the overall impression of the Ukrainian song is: Fine, but a bit chaotic. Hopefully they'll get it straighten out for the Semi Final
You can watch the rehearsal yourself in this video: