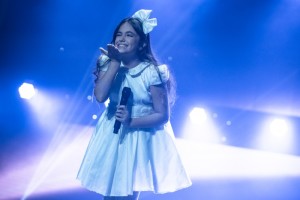 The 11th Junior Eurovision Song Contest was held this evening in Kyiv with twelve countries taking part. Gaia Cauchi from Malta received a total of 130 points with the song The Start making her the winner. Host country Ukraine finished second Belarus came in third.
The two-hour show began with two children (Andriy Boiko and Liza Kostiakina) doing a puzzle that reminds of this year's logo, Puzzle Man. The opening number featured several fairytale scenes with a lot of dancers and musicians on the amazing stage, which was of an impressive level with awesome LED screens and a lot of movable parts and puzzle pieces floating above the huge shiny stage.
The singers from all the participant countries were arriving one after the other on stage, in alphabetical order, each with their song playing in the background.
Then, our hosts welcomed us in Kyiv. Timur Miroshnychenko already presented Junior Eurovision in 2009 and Zlata Ognevich is well known for her performance of Gravity at the 2013 Eurovision Song Contest where she came third.
The songs:
1. Sweden – Eliias – Det Är Dit Vi Ska
First up on the stage was Eliias from Sweden. He looked very confident performing his pop-rock song, which has been composed by himself. He has a great voice, but it faltered a bit. He was dressed in a casual outfit with a black jacket, a white shirt and a black and white stamped t-shirt underneath and blue jeans. The stage was lighted in dark blue and it turned into orange in the most energetic parts of the song with some kind of bubbles shown in the backdrop. He remained at center stage throughout the whole performance and he was accompanied by two drummers.
2. Azerbaijan – Rustam Karimov – Me And My Guitar
He was the youngest artist of this year's contest, only ten years old. The highlight of this performance was the energetic choreography which started with a human bicycle formed by the five backing dancers with Rustam sitting on it. During the whole song they moved around the stage jumping all the time and they also seemed to be playing guitar with some giant strings. The song is very catchy and his voice is incredibly strong for a child of his age. He was smiling all the time and his childlike innocence was very refreshing. The stage lighting was very colourful as well as Rustam's attire who was wearing a yellow shirt, a green vest and pink trousers matching his bow tie. The backing dancers were dressed in grey.
3. Armenia – Monika Avanesyan – Choco Factory
Monika was next together with her five dancers and two huge ice cream cups and a giant chocolate bar as stage props to make it all look like a real chocolate factory with a lot of colourful images in the LED screens. The backing dancers were four girls and a boy who was dressed like a chef. During the whole performance, they brought to the stage all kind of sweets and cakes. Monika delivered a great vocal performance and at a point of the song, she also played violin. She was wearing a white dress with some candies on it
4. San Marino – Michele Perniola – O-o-O Sole Intorno A Me
Michele started his performance sitting on the floor singing in a very intimate way. A few seconds later, he stood up and then the party began when he was joined on stage by five female dancers dressed in black who performed a very well synchronized choreography in a half-circle around him. Michele sang really good and he also showed that he is an awesome dancer. He has a striking footwork which invokes Michael Jackson's moves. His song feels very 80s and also his attire as he was wearing a golden jacket, a white shirt and jeans. The backdrop was mostly blue with some flashes of orange and yellow lights and an oversized orange sun appeared nearly the end of the song.
5. FYR Macedonia – Barbara Popović – Ohrid I Muzika
We continued with a high energy song, perfect for dancing, but Barbara could not handle the difficulties of singing and dancing at the same time and sometimes she put too much energy in the frenetic choreography neglecting her voice which was out of tune especially at the end of the song. She was dressed in silver and black and she was accompanied by three backing dancers, two girls and a boy. The stage was lighted in red and yellow, which reminded of the colours of the Macedonian flag.
6. Ukraine – Sofia Tarasova – We Are One
Representing the host nation this year, Sofia was performing completely alone on the stage with the spotlight on her. The backdrop was dark with green and blue lights shining from it. She has a strong vocal and, despite she did not leave the center stage, she had a great energy which fitted perfectly with the camera angles that made her not to look like she was alone on stage. She wore a white dress and long boots.
Then it was time for a commercial break while a circus act entertained the audience who were watching the show live.
7. Belarus – Ilya Volkov – Poy So Mnoy
After the break, we were back with a very confident performance by the charismatic Ilya Volkov who wore a white shirt, a black vest and blue jeans. The song has a very catchy melody and he had a really good dancing team with him composed by five girls who were also dressed in black and white. Ilya was able to follow the well worked choreography and singing at the same time without any problem to hold even the high notes. The stage was lit discreetly in pink and blue and it changed to orange in the parts in which he was not singing.
8. Moldova – Rafael Bobeica – Cum Să Fim
The performance started with the four backing dancers, three girls and a boy, standing on large square blocks and Rafael appearing from the back of the stage. It was quite impressive listening how a so young boy can sing so brilliantly. Rafael wore a blue jacket, white shirt and green trousers and his dancers were dressed up representing the four elements (earth, fire, water and wind). Near the end of the song, an angel joined them in a very artistic staging. Blue seas and skies were showed on the LED screens.
9. Georgia – The Smile Shop – Give Me Your Smile
The Georgian sextet is composed by four girls with white dresses, and two boys wearing elegant black suits with bow-ties, all of them with a vintage style. The first shots were in black and white and then it was back to colour. Their staging was simply outstanding with a very nice choreography with the six of them dancing alike in twos. They delivered a totally flawless vocal performance and, as it could not be otherwise, in the backdrop we could see a lot of colourful emoticons of smiling faces.
10. The Netherlands – Mylène & Rosanne – Double Me
The twins from the Netherlands have not changed anything in the staging from what we saw in the national final. They were wearing their cheerleading costumes and performed the same choreography with the large red school lockers and four female dancers all wearing cheerleader outfits dancing around each of them. The backdrop showed red and blue sparkling stars and bubbles. The song is undeniably catchy and, despite they had an energetic choreography, the twins managed to sing almost perfectly.
11. Malta – Gaia Cauchi – The Start

The Start was the only ballad of the show. Gaia was alone on center stage wearing a white dress and a matching bow on her head. The staging was simple and effective but she did not need anything else than her powerful voice and a great attitude to thrill all who were listening. The stage was dark with some purple and pink flashing lights.
12. Russia – Dayana Kirillova – Dream On
Dayana arrived to the stage on a white boat wearing a bright yellow dress. The LED screens where lighted in blue and when she left the boat they turned into red. She was joined by four backing dancers dressed as sailors with white shirts and red trousers. She delivered a perfect vocal performance and every single move was really well choreographed.
The show:
After the twelve participants, it was time for the guest performances and the most recent winner of the Eurovision Song Contest, Emmelie De Forest from Denmark, took the stage. She sang her winning entry Only Teardrops joined by a lot of female drummers and a small flute player. She was barefoot and wore a black dress.
One more commercial break for those watching the show from home and for the audience at the Palace of Arts in Kyiv it was played a special video featuring each contestant speaking about how they want to be in ten years.
If anything is typical of the Junior Eurovision Song Contest it is the common song. All the participants were performing a song together whose title was like the motto of the competition, Be Creative!, and it was composed by Yevgen Matiushenko and Mykhailo Nekrasov.
Continuing with the interval act, next on stage was Anastasiya Petryk who won the Junior Eurovision for Ukraine in 2012. She performed a snippet of her winning entry Nebo and a new song called
Winner. It was also expected a performance of Ruslana, the Ukrainian Eurovision winner in 2004, but unfortunately she cancelled with the reason of being sick.
Of course, the host of the show, Zlata Ognevich, also delivered a very impressive performance during the interval act where she changed her outfit three times. At first she was wearing a blue dress and, when some strange creatures joined her, she appeared with a black leather suit. She also sang a snippet of her Eurovision entry, Gravity, and for the occassion she wore a beautiful white dress.
The results:
The winner was chosen by a combination of televoting and juries from all over Europe plus a special children's jury.
Anastasiya Petryk was the spokesperson for the votes of the kids jury who awarded with their 12 points to Gaia Cauchi from Malta.
A spokesperson from every of the twelve countries revealed their country's votes. They were:
Sweden – Lova Sönnerbo (2012 representative)
Azerbaijan – Lyaman Mirzalieva
Armenia – David Vardanyan (runner-up of the national selection)
San Marino – Giovanni
Macedonia – Sofiya Spasenoska
Ukraine – Liza Arfush
Belarus – Alexandra Tkach
Moldova – Denis Midone (2012 representative)
Georgia – Elene Megrelishvili
The Netherlands – Alessandro Wempe (runner-up of the national selection)
Malta – Maxine Pace (participant of national selections in 2009 and 2010)
Russia – Mariya Bakhireva
This was the final scoreboard: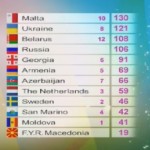 Unlike other editions, this time the acts qualified in the second and the third place also got a trophy whose design featured the Puzzle Man logo in different colours (yellow, blue and pink).
You can watch the winning performance in the video below: