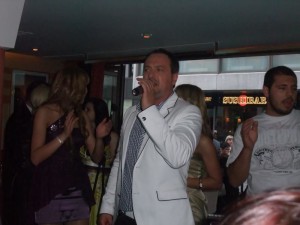 FYR Macedonia hosted a party at the Tempest club in Oslo.  This was a great success with many guests from other competing countries at the 2010 Eurovision Song Contest
Gjoko Taneski performed Jas Ja Imam Silata to a packed club.  People were standing and listening outside too in the warm Oslo evening.
Miro from Bulgaria got the crowd dancing with the dance version of Angel Si Ti.
Sunstroke Project & Olia Tira then did a great version of Run Away to keep everyone dancing.
Juliana Pasha had an amazing performance of 2 songs. First she sang the Tina Turner classic, The Best. Then she gave a rousing version of It's All About You.
Feminnem then performed Lako Je Sve.  This beautiful Balkan ballad was very well recepted by the audience.
Paula Seling & Ovi then took to the stage with their backing vocalists, Larisa and Andrea.  They performed Knocking On Heaven's Door and then burned the house down with Playing With Fire.
Alyosha gave a wonderful performance of Sweet People.  Alyosha has an excellent voice and the audience loved her performance and enthusiasm.
A big thank you must go to FYR Macedonia for organising this party and for those who were lucky to attend I am sure they will never forget.