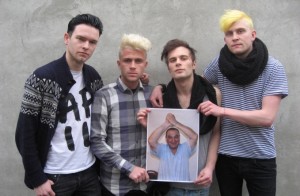 Two former Danish Eurovision Song Contest participants have joined Amnesty International's fights to get 16 prisoners in Azerbaijan released. They got jailed a year ago for speaking against the Azeri government and the campaign on Monday will include other former Eurovision participants.   
Despite the attempts from the European Broadcasting Union, EBU, to keep the Eurovision Song Contest free of political issues it is not really possible. This year where Azerbaijan is hosting it as Ell & Nikki won last year with Running Scared it is even more in focus than usual. 
First the BBC brought a story about people being forced out of their homes without being offered a proper compensation, in order to build the Crystal Hall and its surroundings. That story lead to several, including the Danish OGAE president demanding that either the EBU found another host country or DR, and other broadcasters, should seriously think about boycotting the contest this year.
Later neighbour country Armenia decided to withdraw from the Eurovision Song Contest as they did not feel that the Azeri host and EBU had given them enough guarantees for their safety.
Now two former Danish participants; Malene Mortensen and A Friend In London gets involved as well as they decided to join Amnesty International's campaign for getting 16 prisoners released from jail, where they have been since April last year. They were thrown in jail as they under a peaceful demonstration expressed a negative view on the government.

A Friend In London, who represented Denmark in 2011 with the song New Tomorrow and ended 5th says about their reason to join this campaign: "We support freedom of speech all over the world. A gigantic arrangement as the final of the Eurovision Song Contest creates such big international attention that it is a a good time to look closer at the country. Hopefully Azerbaijan will in the future be a country, where one can say what he or she means without being put in jail".

Malene Mortensen, participated in the Eurovision Song Contest in 2002 with Tell Me Who You Are. She says: "When the whole of Europe meets to a Eurovision Song Contest it is a tribute to freedom of speech and the diversity. Azerbaijan's jailing of demonstrants and critics stands in deep contrast to those values. Therefore I support Amnesty's campaign to get the 16 people, who for neary a year have been in jail for saying their opinion freely in the public room, released".
The campaign will kick off on Monday including more former Eurovision Song Contest participants. PR manager in Amnesty International Denmark, Ole Hoff-Lund says: "The government in Azerbaijan must realise that a large event like the Eurovision Song Contest can not hide the the country's serious human rights offences. They can't claim that they respect the human rights and at the same time beats up and throw in jail peaceful demonstrants".