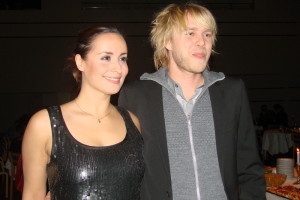 The 2010 Dansk Melodi Grand Prix was official kicked open with a reception last evening. EuroVisionary was present and talked to one of the participating singers, a ditto songwriter, a Eurovision-veteran who has become guardian angel and one of the hosts of the show that will pick the Danish representative for the international Contest in Oslo.
The opening reception was held in Europahallen, Aalborg Kongres & Kultur Center last night and offered to meet in a nice relaxing atmosphere over a drink, a little bit to eat and of course plenty of Melodi Grand Prix music. For this event EuroVisionary had promoted our assistant Hans Rostgaard Sørensen to video interviewer who spent the evening talking to four people involved with the 2010 Dansk Melodi Grand Prix in each their way.
Bryan Rice is an experienced songwriter who participated in last year's Danish final as a songwriter, but this is the first time he is on stage in the Dansk Melodi Grand Prix. He is specially invited by Danish broadcaster, DR and participates on a so-called wild card. Despite that the singers in this position hasn't done well in the past Bryan Rice, who has had big success both in Denmark and abroad, is determined to go all the way to Oslo with his message.
Thomas G:son, Swedish songwriter who has tried his luck in national finals all over Europe claims that he doesn't have a check list of which countries he has yet to conquer. So far he has represented his home country Sweden twice in the Eurovision Song Contest and in 2007 he doubled his chances of winning as he went on to winning the national finals in both Norway and Spain.

Jørgen de Mylius has hosted the Danish final 11 times, been commentator on the Eurovision Song Contest 24 times and is this year back as a so-called guardian angel, a co-host which will help guide the TV viewers to pick the song that can represent Denmark in the best possible way in Oslo in May. He knows better than most how the Contest has developed over the years as he has experienced it himself.
Julie Berthelsen is new in hosting the Dansk Melodi Grand Prix, but absolutely not without experience. She loves making TV, but this Greenlandic singer is open to that she might just be in it as a participant next year. Last year she was given that offer, but she found herself too busy to fully commit. Julie loved the Eurovision Song Contest as a child where she in particular paid attention to other children participating.
All 10 songs participating in the 2010 Dansk Melodi Grand Prix are now available in full length on DR's website and tonight's dress rehearsal will give us the first indications of who might just be representing Denmark at the Eurovision Song Contest in Oslo in May.
Links