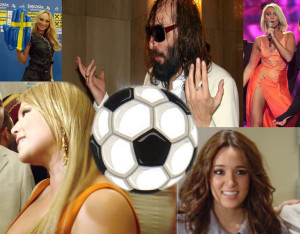 2008 Melodifestival participants are still well represented on the Swedish single top 60 where several names from the Eurovision Song Contest now have entered as well. Kate Ryan, who represented Belgium in 2006, is this week ranked higher than any of them though all are beaten by football songs!
That Sweden is taking part in the upcoming Euro 2008 is clearly visible on the Swedish single top 60 where best selling single this week is Frans Feat. Elias's Fotbollsfest (Football party). In 20th position is Markoolio's Sverige, det bästa på vår jord (Sweden, the best on our earth) and as #58 is Heja Sverige by Camp Sweden feat. Chris Lindh!
Not everything is about football in Sweden though, the Eurovision Song Contest and the Swedish national final, Melodifestivalen, is still popular. Four participants from the newly held 2008 Contest in Belgrade have made it to the single top 60. On that list are still quite a lot of participants from the Swedish selection who have managed to stay on the list for 12 weeks now. None of them beat Kate Ryan though. Her new single Ella Elle L'A is #6 in this week with four weeks on the charts.
As #35 is The Worrying Kind by Maia Hiraswa. This cover version of The Ark's entry from last year was performed as interval act at the Swedish final and has so far survived 11 weeks on the Swedish single top 60.
On the Swedish album top 60 many of the names from the 2008 Melodifestival are also quite dominating. Rongedal, Sanna Nielsen, Christer Sjögren, Nordman and Amy Diamond are all better placed than Charlotte Perrelli's album Hero. Interesting to notice is also the fact that a greatest hit album of Monica Zetterlund, who represented Sweden at the 1963 Eurovision Song Contest, is to be found as #33 with ten weeks on the charts. Sébastien Tellier's album Sexuality is currently #54 in its second week on the list.
Swedish single top 60 (week 22):
#6: Kate Ryan – Ella Elle L'A
#10: Charlotte Perrelli – Hero
#11: Caracola – Smiling In Love
#12: Sébastien Tellier – Divine
#26: Ola – Love In Stereo
#27: Amy Diamond – Thank You
#32: Maria Haukaas Storeng – Hold On Be Strong
#34: Sanna Nielsen – Empty Room
#38: Patrik Isaksson – Under Mitt Tunna Skin
#45: Rongedal – Just A Minute
#50: Kalomira – Secret Combination
#54: Linda Bengtzing – Hur Svårt Kan det Va?
#55: Velvet – Déja Vu
#59: BWO – Lay Your Low On Me
Swedish album top 60 (week 22):
#3: Celine Dion – Let's Talk About Love
#6: Rongedal – Rongedal
#12: Sanna Nielsen – Stronger
#13: Christer Sjögren – Jubileum 40 År Med Christer Sjögren
#16: Nordman – Djävul Eller Gud
#19: Amy Diamond – Music In Motion (Gold Edition)
#22: Charlotte Perrelli – Hero
#25: Suzzie Tapper – Mirakel
#32: BWO – Pandemonium (The Singles Collection)
#33: Monica Zetterlund – Sakta Vi Gå Genom Stan (Det Bästa Med Monica)
#41: Linda Bengtzing – Vild & Galen
#46: Frida – Hoppa Upp!
#47: Caracola – This Is Caracola
#54: Sébastien Tellier – Sexuality
Links