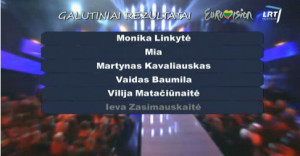 Lithuanian broadcaster, LRT, is engaged in one of the longest selection processes of the Eurovision national final season. This evening, five acts made it through to the next stage.
At the beginning of the evening, there were six acts vying for the opportunity to make it to the next stage of the competition. The show was split into two parts with each of the acts singing a song each in both sections. The first half of the show saw the following performances:
Ieva Zasimauskaitė – You Found Me
Mia – Blowing Out Cobwebs
Vaidas Baumila – It's Not Too Late
Monika Linkytė – Worlds Apart
Martynas Kavaliauskas  – Breakaway
Vilija Matačiūnaitė – Is This The Way (You Want Me)
In the second half of the show, all six acts sung again:
Ieva Zasimauskaitė – It's All About A Boy
Mia – Attention
Vaidas Baumila – Last Date
Monika Linkytė – Take A Look At Me Now
Martynas Kavaliauskas – Dying
Vilija Matačiūnaitė – Let's Share That Love Tonight
A combination of jury and public vote decided who would compete again next week and which one of the six would end their participation tonight. When the votes had been counted, Ieva Zasimauskaitė was the unlucky lady going home. The other five are one step closer to Copenhagen and will have to do it all again next week.