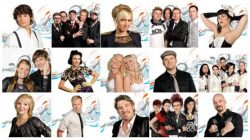 Tonight, Finnish broadcaster YLE held the first of three semi-finals. Five acts competed for the three available places.
Mikko Peltola and host of the 2007 Eurovision Song Contest, Jaana
Pelkonen took care of proceedings and introduce the five songs:
Amadeus – Anastacia – Amadeus' deep voice gives the song a pop-opera fee and the violin adds a classical touch. All in all, it was a strong start to the Finnish heats
Nina Lassander – Cider Hill – This is a strong ballad with a baroque style intro. Like the first song, it had a good chance of qualifying for the final.
Bääbs – You Don't Know Tomorrow – The third song is a fairly non-descript mid-tempo effort. The vocals were weak and it would be a surprise if it won a place in the final.
Boys Of The Band – America (I Think I Love You) – The Finns like their rock and this is the only rock song of the evening. In a contest where 60% of the entries would go to the final, it had a decent chance of being one of them.
Pentti Hietanen – Il Mondo È Qui – Despite the Italian lyrics, there is nothing Italian in the style of the song, in fact, it's the most Finnish song of the five, ironically.
The Finnish public voted by phone for the top three songs. When the votes had been counted, the three songs were revealed:
Amadeus – Anastacia
Nina Lassander – Cider Hill
Pentti Hietanen – Il Mondo È Qui
All is not lost for Bääbs and Boys of the Band. A jury will give choose a wildcard from all the unlucky songs that don't qualify from the heats.
You can watch the three songs below.