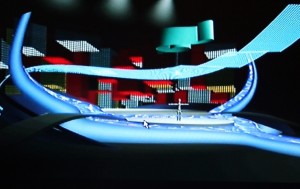 While a graphic of the finalised stage design for the 2008 contest had been online for a few weeks now no such video was available. A short 25 second graphic clip of the stage shows how it may look come May.
You can find the video at the eurovision.tv site here:
2008 stage video
This seems to be the final design of the stage and most of you will notice that it differs considerably from the first draft of the design. This animation of the stage is attributed to Per Sundin.
Links
In my view
This draft of the design of the stage is much better than the first one that was presented to the public late last year.

The opinion expressed in "In my view" are those of the author and are not necessarily the one of EuroVisionary.com.