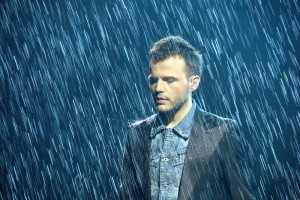 The dress rehearsal Friday evening provided us with indications of what to expect for tonight's show. One thing is sure – it is going to be a colourful show on a stage which hasn't been seen better for years. The long catwalk with water next to it – and even a small swimmingpool brings memories back to the best Danish show from 1984.
For many fans the 1984 Dansk Melodi Grand Prix stands as one of the best national finals – and the stage for tonight certainly reminds of what we saw back then. In this more modern version it looks elegant, classic and sophisticated. 
The performances we'll see tonight will also in many cases include something we don't see every day. Bryan Rice will perform in rain! Joakim Tranberg is using two dancers which almost makes loveon stage – with close on of course! MarieMathilde Band shows a lot of legs – and as many of the participants they also use pyrotehnics on stage.
Simone's performance reminds quite a lot of what we saw from Iceland in the Eurovision Song Contest last year – mainly due to the similar background. She is beautiful in the long white dress and is accompanied by a female harpist. Jens Marni delivers a great rock song as the way it should be. The warm stage and the background fits quite well to the theme, but the performance do surprise as the drummers turns out to be dancers! Chanée and N'evergreen starts out by standing on each their side of a screen, but soon find each other. The stay rather close to each other for most of the song.
Kaya Brüel will be wearing what is probably the biggest dress we have ever seen in this Contest. Her performance do remind of what we saw from Mira Craig in this year's Norwegian selection, although in this Danish version it looks a lot more smooth and elegant. Thomas Barsøe starts out sitting at the piano with a female dancer on the floor close to him. Later in the song it is revealeded that he actually has a band with him.
Sukkerchok delivers quite a good performance, but it is one of the more traditional ones. From time to time you can't help thinking about Annette Heick in her Copenhagen Airport. Silas & Kat uses the stage quite well and near the end of the song we see that they have borrowed Carola's windmashine.
The interval act performed by the two hosts, Julie Berthelsen and Felix Smith, once again brings you back to 1984. I won't reveal everything here, but in case you haven't seen Kirsten & Søren's performance of Det' Lige Det' in the national final you better look it up before watching Dansk Melodi Grand Prix 2010 tonight!
EuroVisionary would like to wish all of our readers a fantastic show. It is going to spetacular no matter who wins! If you want to see our many pictures from the dress rehearsalyou will find them in our photo album from the show.