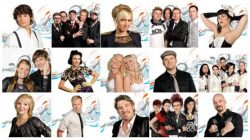 The broadcaster responsible for organising the Finnish song for the Eurovision Song Contest in Oslo, YLE, has today announced the competing songs.
The 15 songs will participate in three semi-finals, three songs will qualify from each. The semi-finals will be held in January, on 8th, 15th and 22nd. The final will be held on January 30th. In addition to the nine songs which qualify from the semi-finals, a jury will select a tenth.
The line-up for each semi final is:
1st Semi-Final – 8th January
Amadeus – Anastacia (Risto Asikainen, Ilkka Vainio)
Bääbs – You Don't Know Tomorrow (Riku Kärkkäinen, Tommi Forsström)
Boys Of The Band (BOB) – America (I Think I Love You) (Kimmo Blom)
Pentti Hietanen – Il Mondo E Quì (Lasse Heikkilä, Petri Kaivanto, Stefano De Sando)
Nina Lassander – Cider Hill (Janne Hyöty, Paul Oxley)
2nd Semi-Final – 15th January
Heli Kajo – Annankadun Kulmassa (Heli Kajo)
Veeti Kallio – Kerro Mulle Rakkaudesta (Veeti Kallio, Pekka Ruuska)
Antti Kleemola – Sun Puolella (Antti Kleemola, Mikko Karjalainen)
Monday – Play (Tuomas "Gary" Keskinen, Salla Lehtinen)
Sister Twister – Love At First Sight (Elin Blom, Jonas Olsson)
3rd Semi-Final – 22nd January
Eläkeläiset – Hulluna Humpasta (Kristian Voutilainen, Onni Waris)
Osmo Ikonen – Heaven Or Hell (Osmo Ikonen)
Kuunkuiskaajat – Työlki Ellää (Timo Kiiskinen)
Linn – Fatal Moment (Sebastian Holmgård, Linn Nygård)
Maria Lund – Sydän Ymmärtää (Valtteri Tynkkynen, Maria Lund, Heikki Salo)

You can listen to the songs by following the link below.
Links