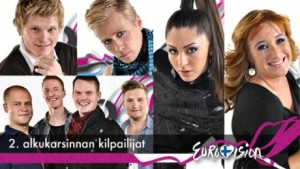 Finland held the 2nd semi final of Suomen karsinta tonight.  3 more acts qualified for the final on 12 February.  The acts were decided by a combination of telephone and sms voting.
The show was transmitted from YLE Tohloppi studios in Tampere.  The songs will all be introduced via video by a former Eurovision representative of Finland.
1. Soma Manuchar Strong
Introduced by Monica Aspelund (1977).  Soma took to the stage with 2 dancers.  This electro pop dance song went down very well.  It had a strong beat and the audience enjoyed this.  Soma looked a little like Elena Paparizou in her appearance and st
2. Paradise Oskar Da da dam 
Introduced by Marion (1962 & 1973).  This was a very simple laid back performance.  Paradise Oskar was sitting on a stool with a guitar.  The song and vocals was in the style of James Blunt.
3. Jimi Constantine Party to party
Introduced by Viktor Kilmenko (1965).  A very lively performance that had the audience going crazy.  Jimi was on stage with a band and this Bon Jovi rock style song with a strong beat should do very well. 
4. Milana Misic Sydämeni kaksi maata

Introduced by Ann-Christine (1966).  Milana, dressed in blue, performed with 4 dancers.  This song was very atmospheric with a strong chorus with a 'middle eastern' feel.
5. Father McKenzie Good enough
Introduced by Riki Sorsa (1981).  The song began with the lead vocalist sitting at the piano.  Then the song became a mid tempo Swedish style pop song with a strong chorus.
The 3 acts to qualify were Milana Misic, Father McKenzie and Paradise Oskar.
The remaining 2 acts still have a chance to qualify with a jury wild card vote.