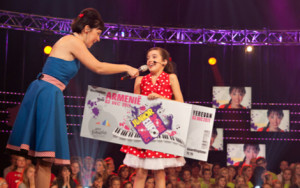 Femke will represent Belgium at the 2011 Junior Eurovision Song Contest in Yerevan with the song, Een Kusje Meer (One More Kiss).  Following a long series of elimination shows the final was decided with 4 acts competing for the place in Armenia in December this year.
Femke is 11 years old from the town of Morkhoven in Belgium. She has won the right to represent her country by winning the final show where 4 acts were hoping to represent their country at the 2011 Junior Eurovision Song Contest. 
There was a big selection process to decide the winning song including semi final duels this week where artists battled against each other.
The 4 finalists were –
Vince Freedom
Naomi Niemand Krijgt Ons Klein
Alexandra Big Bang
Femke Een Kusje Meer
Femke is influenced by English singer, Eliza Doolittle, and that can be heard in this 50s type winning song.  The decision was made by televoting and Belgium unanimously decided to send Eee Kusje Meer to Junior Eurovision.