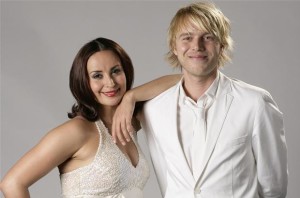 The expert jury for the Danish final was presented today. They will have 50% say in which four acts qualifies for the semi-final, but after that the TV viewers decides everything, just as last year. The format is also the same as last year with a preliminary heat, a semi-final and a final all in one show.
EuroVisionary have previously written that the jury would consist of Paw Lagermann from the successful Danish band Infernal, singer Camille Jones, chorographer Kenneth Kreutzmann, producer Chief 1 who wrote Stemmen I Mit Liv, the Danish entry from 1997 and composer Bent Fabricius Bjerre. Today DR then announced that singer Søs Fenger would join the jury as well.
As last year the Danish selection, which only runs over one night consist of three parts. First all ten songs are being performed. The jury and the TV viewers vote and based on that four songs are chosen for the semi-final, which follows immediately after. In this semi-final the four acts are paired and competing against each other in two knock out rounds. Only the TV viewers are allowed to vote now, which is also the case in the final where those two songs will be fighting for the honour of representing Denmark at the 2010 Eurovision Song Contest.
The Danish final, the Dansk Melodi Grand Prix, takes place on 6th of February in Aalborg, North Jutland. Julie Berthelsen and Felix Smith will present the show with help from Eurovision veterans like Jørgen De Mylius and Keld Heick.