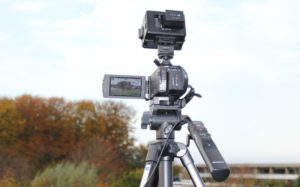 Do you like working with videos, do you speak English and would you like to be a valuable part of EuroVisionary's team at the 2014 Eurovision Song Contest held in Denmark? If you can answer yes to those questions you might just be exactly what we are looking for. 
EuroVisionary is currently preparing for the 2014 season – and we would like you to be a part of it. At the moment we are looking for a videographer who is able to join our team for the 2014 Eurovision Song Contest and to help out from home until it is time to go to Denmark for the contest and show us and our audience what you can do.
What we can offer you:
For the past two years EuroVisionary have been recording in true 3D from the Eurovision Song Contest. As our videographer you will get to work with both 2D and 3D videos. If you are creative and can deliver a product of high quality, we can offer you a great experience, which can benefit you later on in your career.
You will get the chance to improve your skills, work with various aspects of the production of a video, building upon your CV and not to forget, then you will become a part of a great and dedicated team. Together with our team you will get to experience that Europe's and one of the word's largest TV events is much more than just a TV show. 
What we expect from you:
Talent and drive is the most important quality you can come with. It is an advantage though if you have experience with semi-professionel video editing including audio synchronisation, preferably in Sony Vegas, but not a requirement, as long as you are able to learn to use it in good time prior to the 2014 Eurovision Song Contest.
You should be able to join us in Copenhagen, Denmark for the two Eurovision weeks, probably starting on the 27th or 28th of April 2014. Please make sure you can get time off from your regular job or your studies before applying.
If you are interested in joining our team of volunteers please fill in the form where you tell us more about yourself, your experience and perhaps also link to some of your previous work.
Links