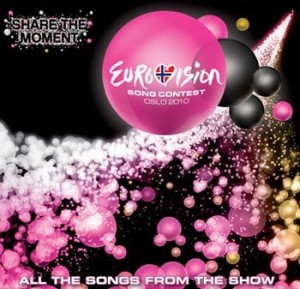 In Denmark the Eurovision Song Contest is one of the biggest TV events of the year. That affects the charts where both the single and the album list feature several participants from the recent held Contest in Oslo though none of them were able to take the first position as a double DVD with Danish final clips was.
All over Europe we see the German winner Lena reaching the top on the single charts. In Denmark she went straight into 2nd position on the Track top40 with her winning song Satellite. Danish representative Chanée & N'evergreen has re-entered as #12 with a total of 5 weeks on the list while Tom Dice from Belgium entered at #39.
On the Album top40 we find the official album with all 39 participating songs as #4 with a total of three weeks on the list. It has made quite a big jump forward as it was #19 last week. On this list we also find three times Eurovision Song Contest winner Irish Johnny Logan. His latest album Nature Of Love is to be found at #9 after it entered last week as #12. The album from Chanée & N'evergreen is new on the list as number 18.
On the Bit track top20 which covers single tracks being sold as download Chanée & N'evergreen's In A Moment Like This has re-entered as #13 with a total of 5 weeks on the list. Lena's winning song Satellite is new on this list as #16.
The Bit album top20 covers albums being sold as download and here the album from Chanée & N'evergreen is #4 after entering as #10 last week. Johnny Logan's Nature Of Love also entered last week as #8, but has now drop one place to a current number 9.The official album is not to be found on this list meaning this is an album the Danes prefer to have it their hand rather than as download.
On the ringtone top10 only one Eurovision Song Contest song is present. This is the Danish entry which has re-entered into a 5th position with a total of 7 weeks on this list.
A double DVD including a bonus CD with the biggest hits from the Danish selection, the Dansk Melodi Grand Prix, in the years 1978 to 2008 has recently been released. That the Danes not just are interested in the new Eurovision Song Contest stuff shows on the fact that this double DVD made it straight into top position on the Music DVD top10.