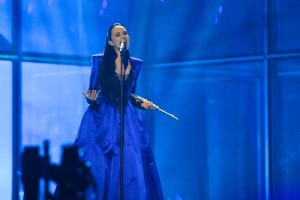 Tinkara Kovač took to the stage for the second rehearsal for Slovenia. She gave a confident stage performance of Round and Round. The stage looked beautiful too for this folky/ethnic pop song.
Tinkara looked elegant on stage in her all blue dress. She begins playing the flute and the song builds in to a lilting melody. Her vocals were clear and confident.
There were three female backing singers on stage dressed in all black with blue on the shoulders. One of the backing singers is Nika Zorjan, who made it to the final of Mizija Evrovizija in Slovenia in 2012. This was the competition that was used to select the Eurovision entry for Slovenia that year, Eva Bota eventually won the EMA in that year. But Nika has since gone on to record some successful solo singles and videos.
The stage and background are a combination of blue and black with strobe lighting in affect. Then for the final chorus the lighting changes to exploding orange and red colours.
This was a confident rehearsal for Tinkara and her team. Maybe Europe is ready to go Round and Round.