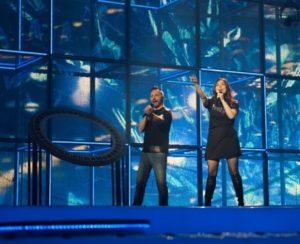 The day lasted with the miraculous song from Romania. Paula & Ovi are on their second attempt in quest of Eurovision glory. Can a miracle happen for the duo and bring the contest to Bucharest for the first time?
The staging of the song is mainly blue with the first shots focusing on Ovi who sings the first notes of the Romanian entry. Soon Paula appears to be standing on one of the catwalks of the stage but after few seconds it turns to be an illusion as her image fades and she re-appears on stage while joining Ovi in the first chorus of the song. Apart of the predominantly blue background there are also golden butterflies projected and a heart also forms on the background screen.
Ovi is wearing a black suite while Paula is clad in a short shiny dress. As expected their vocals are flawless as their Eurovision experience is clearly helping them to transmit their song, Miracle. Paula's high note is well pitched and she would surely receive acclamation if she repeats that on the night.
Unlike their Eurovision performance in 2010 and this year's national final performance, while Paula is singing her part, Ovi is playing a circular keyboard rather than the remarkable double piano. Fire flames are used in the end of the song to make it more memorable although singing last in semi-final two should not need a lot of effort to make it punchy.
In the last part of the song Ovi and Paula embraces each other while they keep on singing their catchy up-tempo song. At the end, Ovi is not connecting well with the camera, however the magical gimmick in the first part of the song is an eye-catcher.