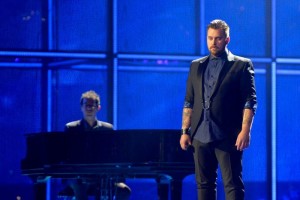 Carl Espen convinced with an intense performance and stellar vocals on Tuesday. Would Silent Storm blow people away a second time around or would it merely turn into a cool breeze?
During Carl Espen's second time on stage, the staging was identical to Tuesday's rehearsal – the darkened stage featuring a rough sea as a backdrop. The four violinists are still on top of their sloping platform and the set opened with showing the pianist from a different angle this time. Carl Espen is making much better contact with the camera this time, with a lot of long, intense looks which suits the dramatic nature of the song. There are some fantastic slow panning shots of him from front to side which look really good on camera. The dry ice covering the stage floor was also used today, heightening the dark, brooding feel of Silent Storm.
He has kept his black jacket and blue shirt, with his tattoos still showing. He comes across as a lot more relaxed today compared to his first run through, but still needs to loosen up a little. He generally looks as if he has finally found his right element and gives off a lot of stage presence.
Carl Espen is once again in fine voice today, although during his very first run through his voice seemed a little thin when he was singing the falsetto introduction. He was back on track for his second run through however and on his third run through had the performance perfected. There were very few people present in the hall but those who where there gave the performance the applause it deserved.