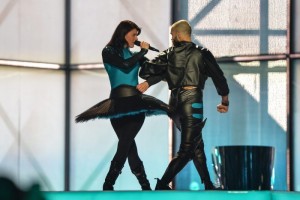 Vilija Matačiūnaitė gave a happy and enthusiastic show of Attention at the second rehearsal for Lithuania. The almost hip-hop dance song was performed with a lot of energy on the stage and should relay to watching public on tv.
Vilija Matačiūnaitė caught our Attention with this second rehearsal show. Vilija's vocals are strong and it sounded just like a recorded version. Very clear vocals.
Vilija is joined on stage by a male dancer dressed in black leather. Vilija is wearing a combination of blue and black. Her pants are black but she wearing a short dress over the pants. It is shaped like a bell or even an umbrella. At one point the male dancer takes cover under the 'umbrella'. 
The lighting is very bright. There is much use of strobe lighting and the colours change from blue and silver rapidly. It all adds to the energy and effects. The combination of the jiggly dancing and lighting bring a positive energy to the stage.
Although Attention is not a 'mainstream' song we can imagine the song in the pop charts and dance floors in the summer of 2014. Lithuania has a strong chance of making it to the final. 
Vilija looks good on the stage and her hair has changed since the Lithuanian selection. It is now longer and black. A slick performance here.