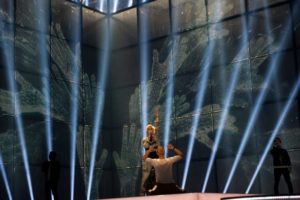 It was time for one of the Balkan countries in the competition this year and that is F.Y.R. Macedonia. Tijana Dapčević is representing F.Y.R. Macedonia this year and will try to put her country back on track and qualify to the final with the song To the Sky.
Tijana Dapčević was next on stage wearing a black suite with a white shirt. The staging of the song is very modern and accompanying Tijana there are three backing vocals and a male dancer. The dancer is clad in a white outfit which reminded us of the Hungarian dancers in the 2011 Eurovision Song Contest.
The main colour in the background lightning is blue. During the introduction of the song a flashing box is projected on the stage floor while the dancer is performing a dance routine with Tijana. Before the bridge of the song, the backing vocals move and come behind Tijana who is pointing her hand to the sky.
Tijana needs to connect more with the camera but the fast moving shots are awesome and are pleasant to watch. In the end of the song the backing vocals and the male dancer gather around Tijana and look to the sky while an aerial shot is taking place.
Tijana appears fresh and has a very strong presence on stage. The good draw is a also a positive factor for the qualifying chances of this song. The contemporary style and the song presentation tick a lot of the boxes to see F.Y.R. Macedonia on Saturday night.