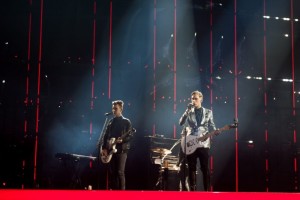 It was time for some rock in Eurovision and as in previous years, Finland is flying the flag in Eurovision for all rock lovers. Softengine will try to be something better than Krista Siegfrids and bring the trophy back to Helsinki for the second time.
The staging for the Finnish entry Something Better is really dark in the begining of the song but flash lightning takes place as soon as the song goes on. Lead singer Topi Latukka is clad again in the silver jacket over a black shirt which makes us think that this is his outfit for the night. Accompanying Topi there is a drummer, a pianist, two guitarists and a keyboard on stage who seem to enjoy every minute while rocking the stage.
Topi's voice was good but in the second run of the rehearsal he missed a few notes. The moving heads and lightning used, play a pivotal role in the presentation of this song. The singers are not connecting with the camera but one can't expect that when having rockers on stage. 
The act is energetic and modern. It can really stand out in terms of the style of the song. The Finnish entry can also get good air play on radio but Softengine's task in Copenhagen is to perform a punchy act that will make Europe vote for it.